Founded by retired firefighter Mike Smith in 1985, Mike's Window and Gutter Cleaning has well over three decades of experience in the industry. We have the skills, know-how, and hands-on knowledge to get your windows or gutters safely and thoroughly clean.
And, unlike some window washers, Mike's Window and Gutter Cleaning provides excellent customer service. From our quality window washing technicians to our free estimates, we'll take care of you and your home!
Customer Service That Can't Be Beat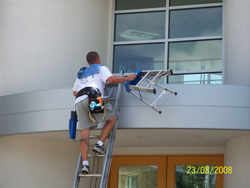 At Mike's Window and Gutter Cleaning, we put a premium on customer service. We want you to be fully satisfied with your results—after all, it's not our gutters or windows that are being cleaned. Our professionals go the extra mile to ensure that your gutter cleaning services and window washing services are completed with absolute precision, thus ensuring that you're left with a clean, functional exterior that glistens from top to bottom.
We're happy to accommodate any special requests and to answer any questions. 
True Experts on the Job
Mike's Window and Gutter Cleaning is a professional window washing service—that means our crews are made up of trained, skilled staff, not kids working for minimum wage. You can trust us to do the job right because, unlike with some other window washing companies, our window washers are experts! That means we know how to treat your home, implement correct safety measures, and efficiently get your windows and gutters clean.
Free Estimates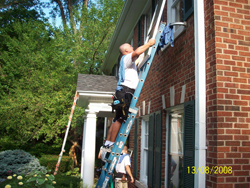 Don't forget, we offer free estimates on all of our services!
That's because we want all of our customers to be able to benefit from the expertise of our gutter contractors and window washers without breaking the bank. With a free estimate from our team, you'll be able to know approximately how much you'll be paying before the work even begins, allowing you to have all of the advance notice you need.
We'll discuss the project in detail with you to ascertain all of the special conditions and give you an estimate based on the amount of work that will be required, so when it comes time to pay, there won't be any surprises. At Mike's Window and Gutter Cleaning, we're always looking out for your best interests. 
Mike's Window and Gutter Cleaning provides window washing, gutter cleaning, and other gutter services to residential customers in the greater Kansas City area (both Missouri and Kansas). We're dedicated to providing efficient services, competitive prices, and excellent customer service.
When you need your windows or gutters cleaned, we're ready to help! Call today to book your appointment.