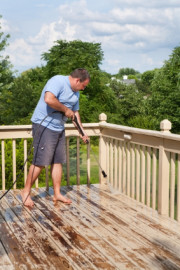 A deck or patio is a great place to enjoy the outdoors during the summer months, but with lots of foot traffic, pollen, and leaves, there's a good chance that your deck or patio will end up dirty and grimy. Not only does this look bad, but buildup can also be slippery, posing a significant safety threat to anyone spending time on your deck. To keep your deck beautiful and safe, turn to the deck cleaning professionals at Mike's Window and Gutter Cleaning. With nearly three decades of experience with deck maintenance and cleaning, we're here to make cleaning a deck at your home or commercial space a simple task. Whether your deck is covered with dirt, yard debris, or pet stains, our technicians are here to ensure that you get comprehensive deck restoration and cleaning services. Call now to learn more or schedule deck pressure washing service for your property!
Cleaning a deck can be a tough and time-consuming task, and if you're not familiar with the best methods for removing dirt, grime, or stains, then you're likely to waste quite a bit of time and effort by trying to clean your deck on your own. Fortunately, you can rely on the deck maintenance experts at Mike's Window and Gutter Cleaning to give your deck the thorough cleaning it deserves. We're deeply committed to customer satisfaction, and that means we'll stop at nothing to ensure that you get flawless results when we're power washing your deck. We have the tools and training to safely blast away grit and grime without harming your deck's wood surfaces, so let us put our expertise to work to get the job done right.
As a family-owned company, we understand how important it is to keep your residential or commercial property in tip-top shape and your budget under control. When you hire us for deck pressure washing services, you can look forward to getting a free estimate before we begin any work. That way, you can decide how deck restoration and cleaning services fit into your budget. Plus, you can always count on us to provide you with competitive pricing, so there's no reason to start sweating over the bottom line. 
For some of the most comprehensive deck cleaning in the Kansas City area, call or e-mail Mike's Window and Gutter Cleaning today!